Profile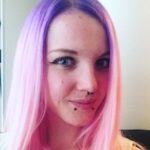 Amy Grayson
Curriculum Vitae
Education:

Brinsworth Academy (formerly Brinsworth Comprehensive School) 2005-2010, Thomas Rotherham College (2010-2012), Sheffield Hallam University (2012-2016), University of Sheffield (2015 – Placement Year), Manchester Metropolitan University and University of Manchester (2016 – Present)

Qualifications:

11 GCSEs, 4 A-levels, 1 Bachelor's Degree with Honors, qualified phlebotomist

Work History:

Rotherham District General Hospital (Medical Microbiology Student Volunteer), University of Sheffield (Researcher and Research Technician)

Current Job:

Research Scientist

Employer:

Manchester Metropolitan University
Favourite thing to do in my job: I love the day-to-day activities and experiments but the best thing about a career in research is going to conferences around the world to talk about my research and talk to other scientists about their research. This also means I can take a few holiday days after the conference to explore the city and country that I am in, which is great fun!

About Me

A researcher with a unique (out)look that likes to travel and game.

Read more

I live with my partner in Sheffield and travel on the train to Manchester to do my research every day. When I am not at work, my boyfriend and I like to spend time playing video games. We have a pretty cool gaming set-up in our living room with lots of different modern and retro games consoles. My favourite game at the moment is The Legend of Zelda: Breath of the Wild on the Nintendo Switch.

I also love to travel and have made my way around a lot of different cities since I started university. These include Paris, Cardiff, Budapest, Amsterdam, Arusha, Kilimanjaro, Barcelona, Lanzarote, Sharm el Sheikh, Dubai. I am currently planning trips to Reykjavik and Copenhagen and am trying to learn a little bit of Icelandic and Swedish before I go.

I have ran the Race for Life for Cancer Research UK every year since 2011 and hope to continue to do so. I have been to Download Festival 4 years in a row. I have 2 tattoos, 12 piercings and often change the colour of my hair. People may think this affects my job but my supervisors, research team and the community of researchers I meet at conferences see my unique look as a sign of somebody who is confident in herself and her research. Often, the way I look is an advantage at conferences as the people who attend my talks or poster presentations remember me and my research due to my piercings and pink hair.

My Work

Research Scientist/Student

Read more

I am a research scientist looking at the reasons why people develop a specific type of rare blood and blood marrow cancers, called myeloproliferative neoplasms (my-eh-lo-pro-liff-ra-tiv/ne-yo-pla-sums) (MPNs). From this research, I hope to develop better treatments for people with these illnesses. I am studying towards getting a PhD in this field of work, which means I must contribute to the knowledge scientists already have about MPNs in a way no other researchers have, either by developing a new therapy, or discovering specific mutations in cell's DNA which haven't been found before.

To do this, I have to use lots of different equipment and machines which look at cells as a whole and how they look compared to healthy cells. That said, most of my work is looking at genes within the cells which control signals that determine how quickly the cells grown and how cells communicate with one another. Part of my job allows me to use world-leading proteomic technology at the University of Manchester. One of the most important machines for my research is a mass spectrometer that is able to measure all the signalling molecules released by the cancer cells by calculating each molecule's mass and ionic charge. Using this data, I can determine what molecules are in the cancer cells, what their function is within the cancer cell and how this is helping the cancer to grow and develop.

Being a researcher means I can work flexible hours which is really great for me. If I have a long experiment to do and work late one day, I can then have the next morning off work or leave early. Research has also made me a lot more social as the research community are all a great laugh. People come from all different backgrounds and I have never felt unwelcome in any research centre I have worked in, despite the piercings and broad Yorkshire accent!

My Typical Day

Plan experiments, do experiments, analyse results, success!

Read more

A typical day would involve firstly checking my emails and diary to look at the experiments I have planned for the day. I also look online to see if any other researchers have published their results about blood or bone marrow cancers, the experiments they did and what they found out. I usually do this while having a cup of hot chocolate (I don't like tea or coffee). I may also meet with my supervisor and discuss results that I have found and she might also ask me to do some different experiments.

Next, I'll head to the lab to check on my cells. Working on diseases involving blood and bone marrow cancers means that I have to grow blood cells in an incubator in the lab. The cancerous cells come from patients who have an MPN disease but I also have to compare these to healthy blood cells which come from volunteers who allow me to take their blood from a vein in their arm and grow their blood cells for the purpose of my research.

When the cells have grown, I can then use different treatments and drugs on these cells and carry out lots of different experiments to see the effect of the drugs on killing the cancer cells, if the drugs will have any effects on healthy cells and what signals the cells are giving to other cells when they are dying. To keep the cells alive before I use them, I have to feed them with nutrients every 2 days.

An average day can vary quite a lot depending on what experiments I have to do because some experiments may take all day and some may only take 1-2 hours. Sometimes I will be extracting DNA from cells to see what genes are turned on or off, other times I might be extracting signalling proteins and using the mass spectrometer. Sometimes I might be looking at the shape and surface of the cells using a machine known as a flow cytometer. When doing any of my experiments, I have to write down in my lab book exactly what I have done so I know what dose of drug I used or how many cells were killed by the drug within a certain time period.

At the end of the day, I will make sure that my lab book is filled in with details of all the experiments I have done that day, make sure all of my samples are stored properly and that the lab is clean and tidy ready for the next day. I will also have time to analyse my results using software on my laptop, and write these results into a report ready to share with other scientists, either online or through written scientific reports or presentations for conferences.

What I'd do with the prize money

Meet scientists in your area and see how you can get involved in local research or a science career.

Read more

I'd like to organise an event where people can really get involved in science. A lot of people who aren't scientists just yet, or the general public who support science, don't really know how they can get involved in some of the research projects in their area. Researchers are constantly looking for ways in which they can share science with the public in ways which will engage them to participate more and have an active involvement in science.

I would like to organise an public engagement event where people can meet scientists in their local area face to face and discuss what research is going on near them and how they can get involved. A lot of researchers need volunteers of all ages to take part in their study for a lot of different things, from volunteering their time to take part in surveys, giving blood or participating in trials for physical interventions. Personally, I also think this opportunity would be great for scientists to learn how to communicate our research with the public and show how the research is changing lives daily. Is it better for us to write scientific articles in publications on the internet which the public may not be able to find easily, or would the influence of social media help, or online blogs?

I'd like to put a stall up for school aged children who are considering a career in science, be that lab research or field work, science teaching or industry. I'd hope to recruit teachers from nearby colleges and people from industrial science companies, researchers and academics to talk about how young adults who are leaving school and want to pursue a career in science can do so with as much support and information as possible.

Opportunities for young people are vast in the present day however this was not the case a few years ago when my parents were leaving school. I'd like resources for people who are thinking of a change in career, either from one scientific field to another, or from a non-scientific background into a science-related job. Information on different courses, qualifications they may need for their prospective job, help with CV and covering letters for scientist and academic posts, information on working hours, salary, childcare, full and part-time courses that fit around families and the things that really matter when you're thinking about completely changing careers.

My Interview

How would you describe yourself in 3 words?

Funny, unique, determined

What's the best thing you've done in your career?

I was awarded a prize at my graduation last year for receiving the best mark out of my year. I have also already submitted some of my research to be published in a scientific journal for people to read worldwide.

What or who inspired you to follow your career?

I was always interested in science more than any other subject but when my friend was diagnosed with leukaemia at 15, this really made me think about why people get cancer and how I can make a real difference in people's lives who are affected by cancer.

Were you ever in trouble at school?

Not really, I was very quiet at school

If you weren't doing this job, what would you choose instead?

A chef!

Who is your favourite singer or band?

Guns 'N' Roses

What's your favourite food?

Stir fry

What is the most fun thing you've done?

I have done a skydive for charity and also climbed Mount Kilamanjaro in Tanzania, Africa! Both of these experiences were amazing yet terrifying!

If you had 3 wishes for yourself what would they be? - be honest!

Be able to relax more, make a real change to people's lives who are living with cancer, and don't take things too personally when things aren't going so well.

Tell us a joke.

I had to make this bad chemistry joke because all the good ones Argon.
---
---