Profile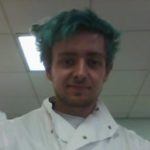 Daniel Smith
Curriculum Vitae
Education:

St.Thomas Cantilupe Primary School, 1995-2002. Whitecross High School 2002-2007. Hereford Sixth Form College 2007-2009, Cardiff University (undergrad) 2009-2013, Cardiff University PhD 2013- present

Qualifications:

GCSE grades A* in maths and geography, A's in R.E, I.T, Science double, English language, English Literature, Food technology. NVQ level 1 in business administration. Touch typing level 1 distinction. A levels: A in chemistry and general studies, B in Biology, Maths and Computing. MChem masters in Chemistry 2.1.

Work History:

Tesco Stores in Cardiff and Hereford.

Current Job:

PhD student for Cardiff Chemistry.

Employer:
Favourite thing to do in my job: As a chemist, I love to make things go fizz, bang, whoosh and love anything that changes colour. My research unfortunately doesn't involve this as it is looking at diagnostic tests for kidney disease in urine. But when talking to the public we still like to show the wonders that mixing two chemicals together can do.

About Me

I am a whacky, chemist that hopes to inspire young minds to study chemistry too.

Read more

I live in Cardiff and am working towards a PhD in Chemistry (particularly chemical biology) in Cardiff University schools of Chemistry and Medicine. I am working on the development of electrochemical dipstick diagnostic tests for kidney disease and diabetic kidney nephropathy, but when talking to members of the public and the young minds of the next generation of scientists I love to show how exciting the world of chemistry can be. I am always the first to sign up to outreach activities because I love to talk science with those who have an interest in it (and make those who aren't even more interested).

In my personal life I am an ex musical theatre actor and have performed in many musicals such as Fiddler on the roof, Godspell and Dazzle, although I gave it up when I came to uni to focus on work, but would love to get back into it one day. I love going to see musicals and recently went to see Joseph and the Amazing Technicolour Dreamcoat. I also enjoy reading and am currently reading American Gods by Neil Gaiman, but I also enjoy watching Marvel films and TV shows such as Game of Thrones and Its always sunny in Philadelphia.

My favourite pizza is the full house from Dominoes…. but I much prefer to have chinese food when I can afford it! Sweet and sour all the way.

My Work

PhD in Chemistry on the Electrochemical Detection of microRNAs

Read more

For my PhD I am working on the development of an electrochemical dipstick biosensor to detect microRNA in urine of patients, particularly those with diabetes.

In simple terms I am looking for small RNA molecules in a persons urine so that I can tell them whether or not they are likely to develop kidney problems in the near future in the hope that we can treat them before they require dialysis. Thus giving them a much happier quality of life.

My Typical Day

Get up, breakfast, lab work until 5pm and then home to read or watch TV.

Read more

I get up in the morning at around 8am, and after showering and having breakfast I make it to the lab around 9-9.30am (as a PhD student the hours are reasonably flexible). Once there I start by modifying a set of electrodes from my industrial collaborators so that they are ready to have DNA placed on them. While this is underway I can update my lab book, reply to e-mails and catch up with my friends and colleagues in the office.

This part is usually done just after lunch, at which point I spend the rest of the day performing experiments with RNA solutions and urine solutions in order to determine if I can indeed quantify the amount of RNA in the urine samples I have.

After work I tend to go home, have food and relax with Netflix, video games or a book if my friends are busy, or if not then I like to do things with them such as play a game of rugby or rounders, or maybe catch a movie at the cinema.

What I'd do with the prize money

I'd like to help develop an interactive "game" to show the work I do and general chemistry.

Read more

As part of my outreach with the university I had to help develop an interactive activity to show to the general public to describe my research. To do this I used simple pH colour changes to show how a biomarker may show the disease that a person has and what medicine would be best for them. This had a budget of only £50.

I would like to develop more of an outreach kit that includes a set of magnetic balls which have to be separated by colour/appearance by the user and then have a magnet which can do this separation much faster, thus indicating how the use of a biosensor can greatly speed up sample analysis. Along with this I would also like to have some chemical "kits" that can show exciting reactions like the elephants toothpaste redox reaction, the 'blue bottle' colour changing experiment where methylene blue is reduced by glucose to colourless but is oxidised by oxygen on shaking to a blue colour.

I would like to basically have a kit of small, safe activities that show things go fizz, bang or change colour, aswell as having a demonstration of my work. Because these are the things that excited me into chemistry, and I would love to inspire more people to do it.

My Interview

How would you describe yourself in 3 words?

Whacky, Fun, Helpful

What's the best thing you've done in your career?

Published a paper of my research, but also hosting a science outreach event to the public in a pub.

What or who inspired you to follow your career?

My College teacher, Dr. Phil Evans.

Were you ever in trouble at school?

Not really

If you weren't doing this job, what would you choose instead?

Probably a mathematician or accountant.

Who is your favourite singer or band?

Tenacious D

What's your favourite food?

Chinese food… sweet and sour.

What is the most fun thing you've done?

Musical Theatre Performances

If you had 3 wishes for yourself what would they be? - be honest!

To be in a movie, To be rich enough to share with my family, To be a TV scientist.

Tell us a joke.

A duck walks into a bar, says have you got any bread? The barman says no, the next day the duck comes again asks have you got any bread? The barman again says no. The next day the duck comes in and says you got any bread? The barman angrily says if you ask me that again I will nail your beak to this bar. The next day the duck comes in and asks you got any nails? The barman says no….. and so the duck asks you got any bread?
---
---
---